Environment
Environmental management
To achieve the Vision 2030 management guideline of "Contribution to a sustainable global environment," we formulated Aichi 2025 Environmental Action Plan to chart a course of action through to 2025. We defined targets to accomplish by 2025 and we are currently implementing a three-pillar approach (eco-energy, eco-production, and eco-management) to help achieve those targets.
Conceptual diagram of environmental policies
Promotion system
We are working to implement environmental management through effective employment of the PDCA cycle mainly through the Environmental Working Group, which operates under the supervision of our Board of Directors with the president as chairman. Following company policies and the Aichi Environmental Action Plan, the Environmental Working Group is in charge of executing strategy, establishing targets, and checking progress. We have also established six subcommittees, with clear areas of responsibility, that are conducting efficient and targeted activities.
Eco-energy
Approximately 90 percent of CO2 emissions at Aichi Steel come from the use of electricity to melt steel scrap, a raw material in our steel making process, and from the use of city gas to heat steel products. For this reason, we are developing technologies for more efficient use of energy in our electric furnaces and other heating furnaces, expanding the energy-saving activities that we have previously committed to in our manufacturing processes, and adopting clean energy from solar and other power generation methods.
Increased adoption of clean energy
In fiscal 2021, we switched our entire electricity consumption at three plants (Gifu, Seki, and Higashiura) to renewable energy through the purchase of FIT non-fossil fuel energy certificates, through which we achieved carbon neutrality. Going forward, we will systematically implement adoption of in-house solar power generation, use of biofuels for on-premises transportation, and introduction of hydrogen burners.
Breakdown of CO2 Emissions in FY2022
(Scope 1 + Scope 2 emissions from Aichi Steel Corporation on a non-consolidated basis)
Illustration of the adoption of renewable energy electricity
Eco-production
Aichi Steel is a resource-recycling company that recycles through manufacturing, such as by using steel scrap from end-of-life cars and other sources and resurrecting that raw material as high-quality steel products, automotive components, and other products. We are developing environmentally friendly products and technologies that contribute to decarbonization of society, contributing to next-generation infrastructure to realize a hydrogen society, and pursuing resource recycling.
Contributing to decarbonization through development of environmentally friendly products and technologies
Aiming to achieve 100 percent recycling of cars, which also use many of our products, we are collaborating with the Toyota Group to develop technologies and establish an environmentally friendly recycling system. In addition, we are working to develop and implement heat storage systems for recovery and storage, and on-demand use, of the high-temperature exhaust heat from our plants and other operations.
Illustration of efforts for 100 percent recycling of end-of-life cars
Contributing to next-generation infrastructure: Stainless steel for high-pressure hydrogen applications
To realize a hydrogen society, we need new infrastructure designed to produce, transport, store, and use hydrogen. Leveraging many years of stainless steel production knowhow, we were the first company to develop stainless steel for high-pressure hydrogen applications, which has already been used for high-pressure hydrogen equipment for hydrogen stations and for Toyota's MIRAI fuel cell car.
To further expand use in the future, we are also accelerating efforts to develop high-strength, highly functional, resource-saving stainless steel with outstanding high-pressure hydrogen embrittlement resistance.
Pursuing resource recycling: Zero emission activities
We are conducting 4R activities (Reduce, Recycle, Reuse, Renewable) to effectively use our limited resources and energy without waste. At least 70% of the raw materials in our production activities come from recycled products, while we also reuse 99% of the byproducts (steel slag, refractory bricks, etc.) from our production processes.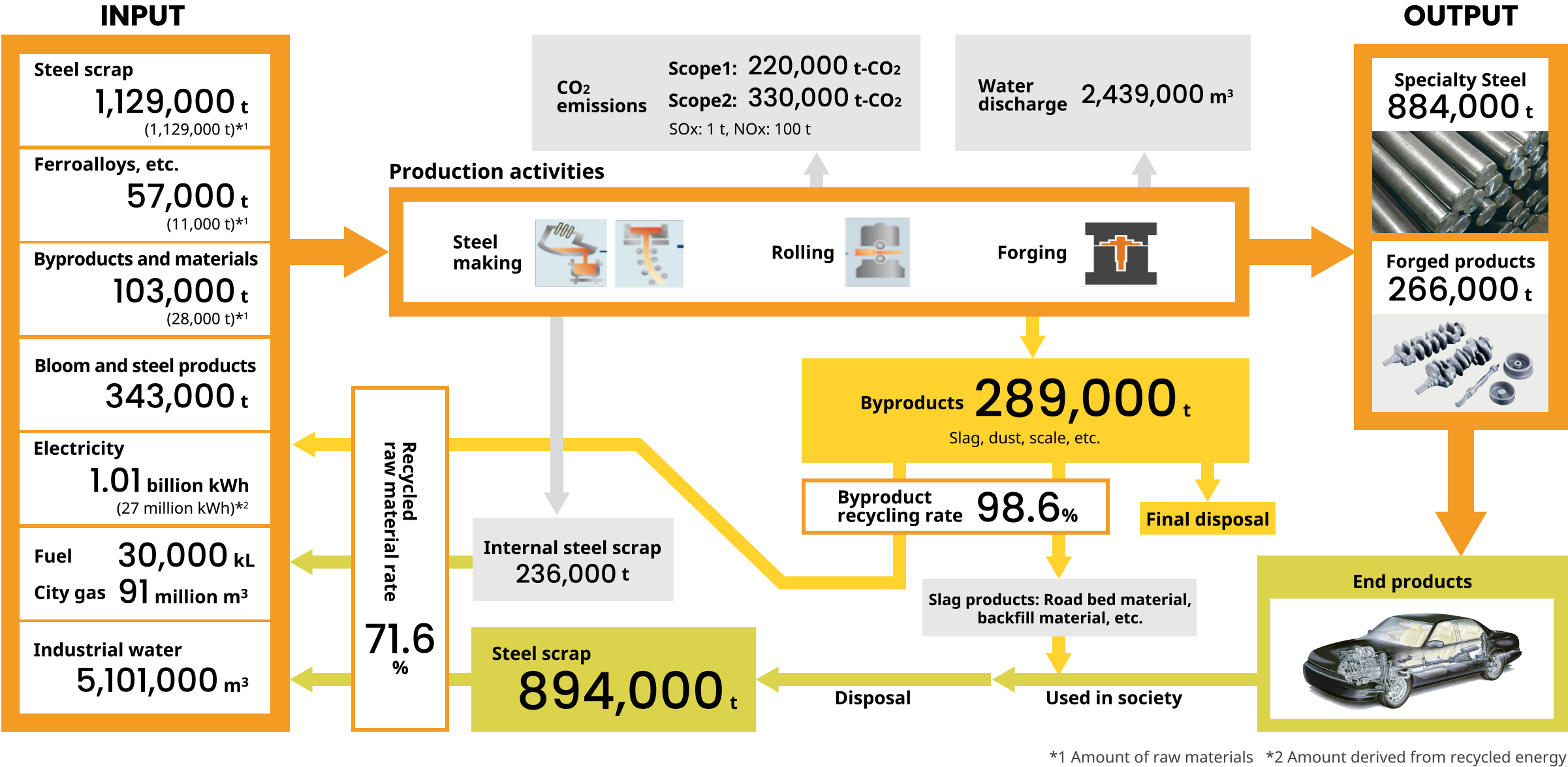 Eco-management
Aichi Steel uses large volumes of water in the manufacturing process, including for product heating, cooling, and cleaning. For this reason, we aim to minimize environmental impact and coexist with the global environment through clean water and air, so we are working to fulfill our environmental responsibilities, preserve nature and biodiversity, and proactively communicate and disclose environmental information. We are striving to reduce SOx, NOx, and other emissions in the production processes, and make effective use of our precious water resources while preventing discharges, and we publicly disclose our performance. To preserve nature and biodiversity, we have been planting a broadleaf forest in about 20,000 m² of Nakashinden green spaces around our plant, and using this as part of a nature conservation program.
Amount of industrial waste discharged from products using plastic
Nature and biodiversity conservation activities