Motors and Reduction Gears Box for Electric Axles
Background Information
With the rapid rise of electric vehicles in recent years, there are concerns of shortage of magnetic steel sheets and of rare metals such as lithium, cobalt, and neodymium, which are used in electric axles (which are the drive unit).
We have been manufacturing automotive drive components for over 80 years, since the foundation of the company. Our R&D in material technologies such as specialty steel and bonded magnets are focused on resource saving in electric axles.
What is an electric axle (e-Axle)?
The electric axle is the drive unit of an electric car. It replaces the engine in a gasoline car. The e-axle consists of a motor, a reduction gears box, and an inverter.
Technology for High-speed Rotation of Motor
While a common EV motor using Nd sintered magnets rotates at less than about 20,000 rpm, the motor using MAGFINE®, the world's strongest bonded magnet developed by Aichi Steel, has a high electrical resistivity and excellent centrifugal resistance, resulting in achieving ultra-high rotation speed of about 34,000 rpm.
EV motor maximum rotation speed comparison
Why MAGFINE® enables ultra-high rotation speed
(1) High electrical resistivity
As a bonded magnet, MAGFINE® has an electrical resistivity 100 times higher than that of Nd sintered magnets. It can therefore suppress heat generation that hinders high-speed rotation.
Comparison of electrical resistivity of MAGFINE® and Nd sintered magnets
(2) Centrifugal resistance
MAGFINE®'s integrated molding technology enables the rotor's mechanical strength to withstand the centrifugal force of high-speed rotation.
Integrally molded magnet rotor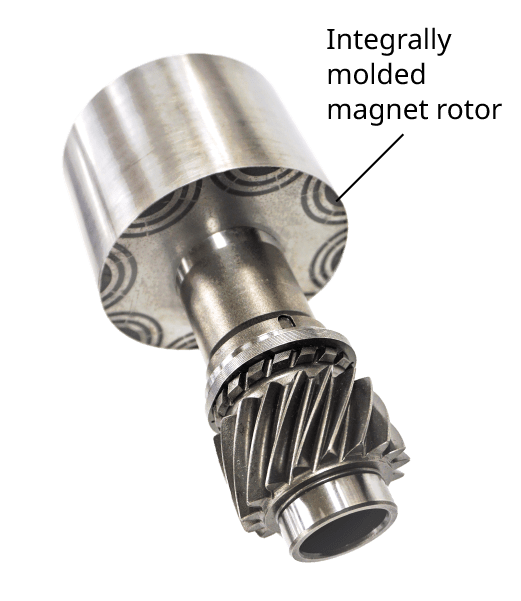 The evolution of integrated molding technology into the rotor
Technology for Downsizing and Higher Performance of the Reduction Gears Box
In order to achieve the required axle torque, it is necessary to increase the reduction ratio as the motor rotates at high speed.
In general, higher reduction ratios increase the size of the reduction gears box. However, we have succeeded in developing a small, high-reduction gears box by increasing the strength of conventional gear steels by 30% using the "integrated steel forging" process that we have developed over many years.
30% strengthening of conventional gear steel due to downsizing and high reduction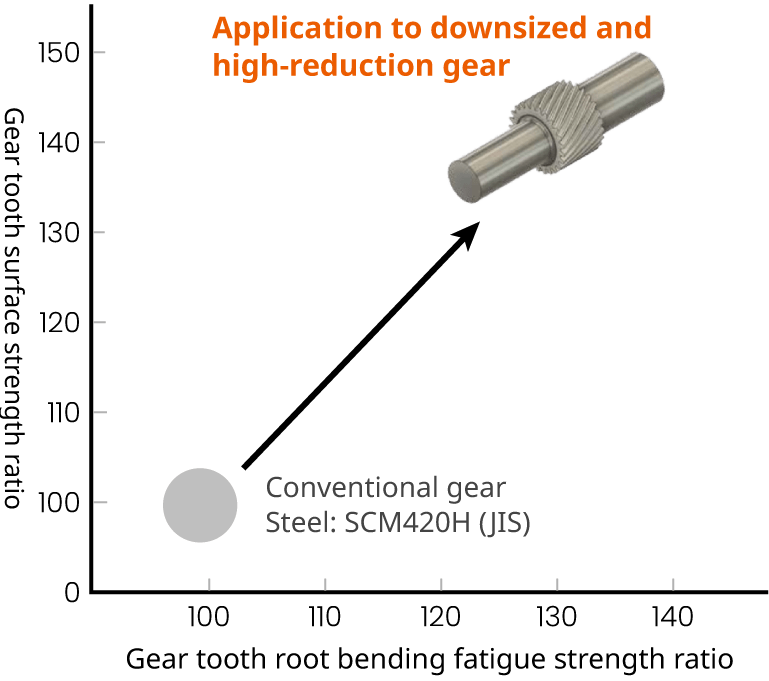 Benefits
By developing technologies for high-speed motor rotation and downsizing and high reduction of the reduction gears box, a 40% reduction in both weight and size of the e-Axle has been achieved.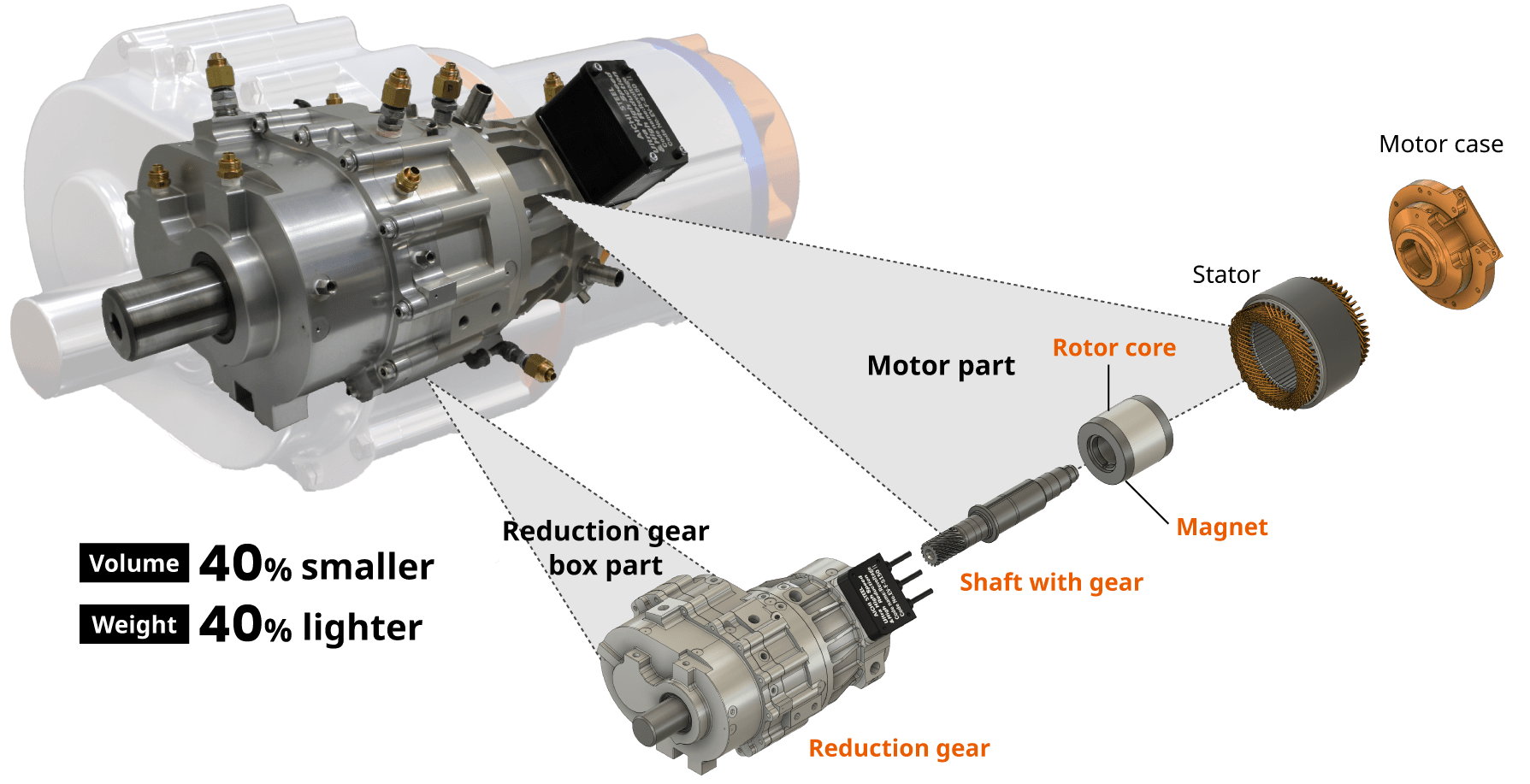 Electric axle main material resource saving
Through high-speed rotation and high reduction demonstration tests, we were able to confirm the possibility to reduce by over 70% the main materials used in electric axles, such as magnetic steel sheets and copper.
Weight ratio of electric axle main components
Amount of material (relative value) used to produce similar output
Main components
Common electric axle
Our electric axle
Motor part
Magnetic steel sheets
100
25
Copper
100
30
Rare earth magnet
100
30
(Dy Free)
Reduction gears box part
Gear and shaft (excluding deferential gears part)
100
100
Amount of material used per reduction ratio (relative value)
| | Main components | Common electric axle | Our electric axle |
| --- | --- | --- | --- |
| Reduction gears box part | Gear shaft (excluding deferential gears part) | 100 | 50 |