Society
Human resource development
We conduct our business activities through relationships with various stakeholders, so building positive relationships with those stakeholders is important for improving corporate value. Through proactive dialogue with stakeholders, we are able to incorporate the needs of society and expectations for us into our business activities, and encourage them to feel a sense of closeness with Aichi Steel. In this way, we are able to grow alongside all of our stakeholders, including customers, shareholders and investors, employees, suppliers, and local communities.
Diversity and Inclusion
We believe that new value can only be created when employees with diverse attributes, feelings, potential, values, and experiences are able to mutually understand each other, enhance each other's potential, and demonstrate it to the fullest. This is why we systematically employ a diverse range of people, create environments where they can demonstrate their potential, and implement other initiatives to create a company where every employee can play an active role.
Promotion of more active roles for women in the workplace
The key to women being able to continue working toward their goals is to enable more flexible workstyles.
Aichi Steel provides career planning support through training and other means, and has created flexible workstyles that enable this to happen alongside important life events. This includes adoption of a range of support systems such as a "flextime system without a core period" and "working from home system," and establishment of the Nice Family System built around childcare support systems and nursing support systems. Going forward, we will continue implementing this workstyle reform while creating workplaces that respect diversity.
Number (and rate) of
new female graduates recruited
Number (and rate) of
female managers
Overview of the Nice Family System
Usage of the Nice Family System
| Fiscal year | 2018 | 2019 | 2020 | 2021 | 2022 |
| --- | --- | --- | --- | --- | --- |
| Childcare leave (persons)*1 | 10 | 7 | 17 | 24 | 33 |
| Shorter work hours (persons)*2 | 50 | 42 | 40 | 36 | 45 |
| Registered for the post-retirement reemployment system (persons)*3 | 3 | 2 | 0 | 1 | 3 |
Number of new users during each fiscal year
Number of users at the end of each fiscal year
Reemployment system for employees who retire for reasons of childcare or nursing care
Promotion of continued employment beyond standard retirement age
Aichi Steel has adopted a Nice Senior System that allows all employees who wish to work after reaching retirement age to continue working. In fiscal 2021, to make work even more enjoyable, we also created workplaces that are easier to work in and we reassessed employee benefits through discussions between labor and management.
Registrants for the Nice Senior System
| Fiscal year | 2018 | 2019 | 2020 | 2021 | 2021 |
| --- | --- | --- | --- | --- | --- |
| Nice Seniors (persons) | 81 | 76 | 124 | 138 | 177 |
Expansion of active workplaces for people with disabilities
People with disabilities are actively employed across a range of Aichi Steel workplaces, from our manufacturing sites to administrative divisions. With a focus on providing work that suits individual abilities, we follow a program of practical workplace training and interviews from the recruitment phase to decide where to assign them. To ensure all employees can enjoy working together after recruitment, we provide ongoing employment support such as allocating Vocational Life Consultants for Persons with Disabilities and others to regularly meet with the employees concerned and to follow up with the workplaces.
Employment rate of persons with disabilities
| Fiscal year | 2018 | 2019 | 2020 | 2021 | 2022 |
| --- | --- | --- | --- | --- | --- |
| Employees with disabilities (persons) | 55 | 59 | 59 | 65 | 69 |
| Employment rate (%) | 2.6 | 2.8 | 2.7 | 2.9 | 3.0 |
| Achievement status of the statutory employment rate (%) | 100 | 100 | 100 | 100 | 100 |
Employee health and safety
Living actively, both mentally and physically, leads to a valuable working life and to the happiness of employees and their families. This is why we consider health and safety to be priority issues, work to maintain and improve the mental and physical health of our employees, and create workplace environments that are people-friendly, safe, and secure.
Implementing health and productivity management
Efforts to maintain and improve employee health bring a range of benefits, including vitality and productivity improvements. With a particular emphasis on mental health and preventing lifestyle-related diseases, Aichi Steel is collaborating with the Health Insurance Society and labor union to share information on issues and expand measures. To help prevent lifestyle-related diseases, we have launched our Health Challenge Eight* initiatives to promote the improvement of the healthy habits as an approach to move a pivot leg from "treatment" to "the prevention." In terms of mental health, we have established a Mental Health Consulting Counter and we provide individual and workplace care through education and stress checks for individuals and their supervisors. In addition, we have introduced a new mental health medical adviser system while also enhancing our efforts to prevent the development of mental health issues, and enable early detection of issues and early provision of care. In recognition of these initiatives, we were recognized for the fifth consecutive year in 2022 as a Health and Productivity Management Outstanding Organization.
Health Challenge 8 is an initiative that focuses on eight lifestyle areas (appropriate weight, eating breakfast, drinking alcohol, snacking between meals, giving up smoking, doing exercise, sleeping, and stress) and encourages participants to put as many healthy habits into practice as possible.
Promotion framework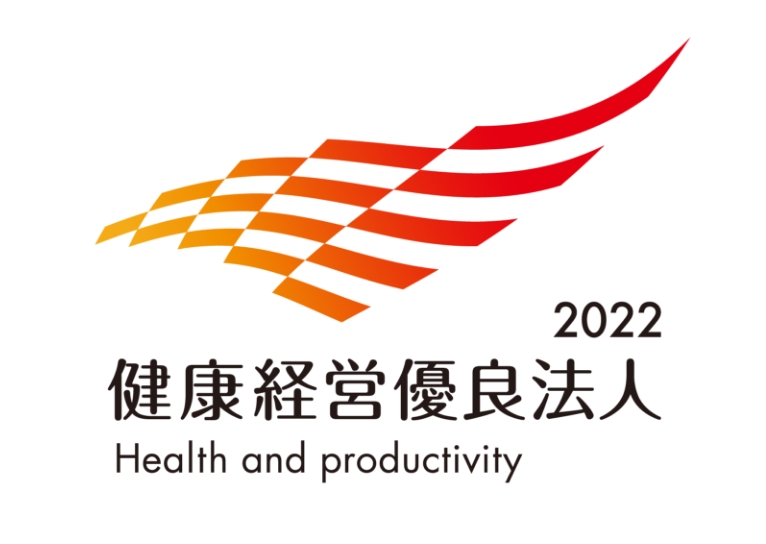 Harassment
Harassment is not only an assault to personal dignity and a disturbance of the peace in workplaces, but it is a problem that severely impacts business management as well. This is why labor and management are working together to create harassment-free workplaces. We established the Aichi Steel Harassment Prevention Guidelines, and provide education to all executive officers and employees, to define measures for preventing harassment and rules for the company and employees to observe. We have also established dedicated harassment consulting services internally and externally, and we are allocating consultants in each workplace to systematically suppress harassment while achieving early detection and resolution. Consultations, reports, and issues uncovered are quickly examined, and facts are confirmed, in an Investigative Committee made up of members of labor and management who work to prevent recurrence through strict measures, education of supervisors, and other actions.
Basic conceptual diagram of harassment prevention structures
Safety
We recognize that "safety takes priority over all," and we apply the Basic Philosophy for Safety and Health that says "Safe work, Reliable work, Skilled work. Safe work is "the gate" to all work. Let us pass through this gate." With this in mind, employees and everyone else working on our premises aim to create safe and secure working environments and to transform into a company with a safety culture.
Safety and health activity policy
To help prevent accidents, we are working on the three pillars of "safety management," "development of safety-conscious human resources," and "fundamentally safe designs." For safety management, we are developing risk assessment tools able to reliably identity sources of danger. For development of safety-conscious human resources, we are working to foster people who can learn knowledge and skills, maintain a strong awareness, and promote mutually beneficial communication. For fundamentally safe designs, in the facility design stage, we are enhancing the standard of zero points of contact between people and sources of danger. We will continue strengthening these three pillars into the future as we work to create safe workplace environments.
Basic conceptual diagram of safety and health
* Occupational Safety and Health Management System
Number of lost time accidents and lost time frequency rate
Employee Engagement
Creating structures where the company and individuals share objectives and targets, and can each grow, will encourage each employee to take on challenges and will lead to an organization able to meet the challenges of any changes in the business environment. This is why it is important that each of our employees can continue to grow through their work, and can maintain motivation in their work. It is also why we conduct regular surveys and take whatever measures are required.
FY2021 achievements and future initiatives
For individuals to grow, they need a nurturing base, or culture, and to create such workplaces, we have launched a three-year Workplace Culture Reform Project. We started by making the behavior and care of our supervisors more visible. Going forward, we will provide mutual learning opportunities for our supervisors, and establish evaluation methods that will lead to further improvements.
By rebuilding deteriorated dormitories for single employees, further enriching the teleworking environment, and conducting other initiatives, we will remove stresses from daily living and develop environments where our employees can concentrate on their work anytime and anywhere.
Changes in evaluation of employee engagement (calculated as an index with FY2017 being 100)
Human resources development
For Aichi Steel to remain the company of choice for customers, as a company that expands the possibilities of manufacturing through materials, we must improve our ability to flexibly respond to changes around the world. For this reason, we have added Human Resources Development to Vision 2030. We will now follow this plan to ensure we develop and secure human resources with both expertise and basic skills.
Amount invested in education (per person)
Education time
(per person)
Concept for human resources strategy
Adaptability to change
In times of increasing uncertainty and a future that is hard to see, rather than defining a single destination, it is important that we both increase the level of expertise required at present, and refine basic skills to be able to adapt to any change. These basic skills include the skills and problem-solving capabilities acquired over many years, and the digital literacy that is necessary now. Our basic approach to teaching skills and problem-solving capabilities is to employ on-the-job training, so we have expanded our training systems in the belief that group training programs will improve the effectiveness of that training. We are also improving the synergies of on-the-job and off-the-job training by enlisting senior employees, who have acquired instructor education in group training programs, to guide our junior employees. For digital literacy, we formulated a training program in fiscal 2021 and started implementing that program in fiscal 2022. In the future, we will expand the knowledge training required for business reform to all employees, and we will both select and develop DX Leaders to drive that reform.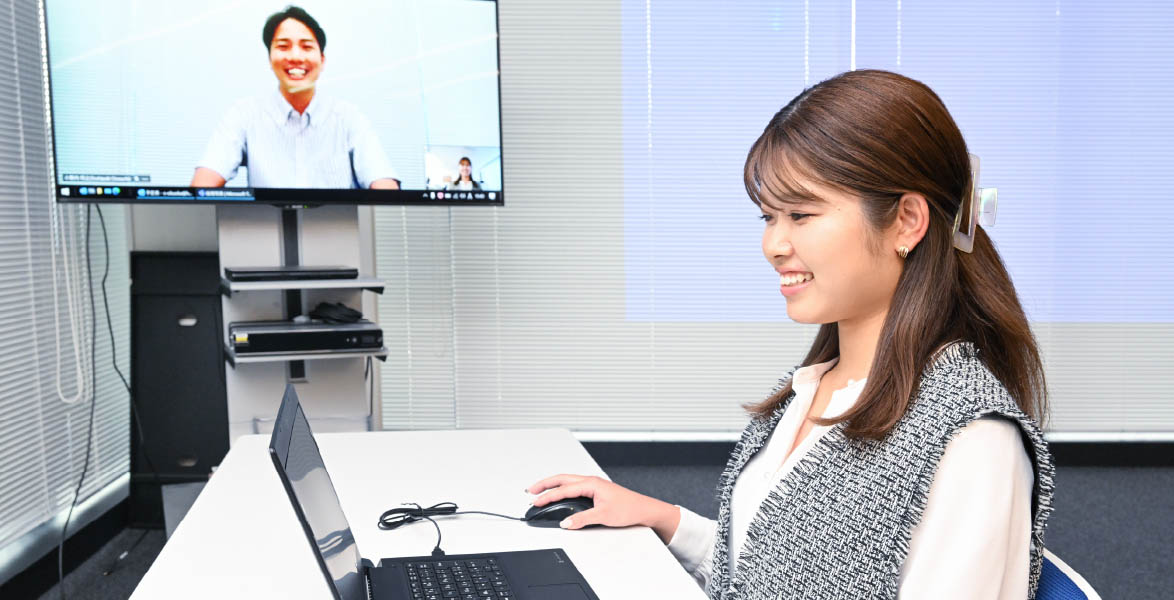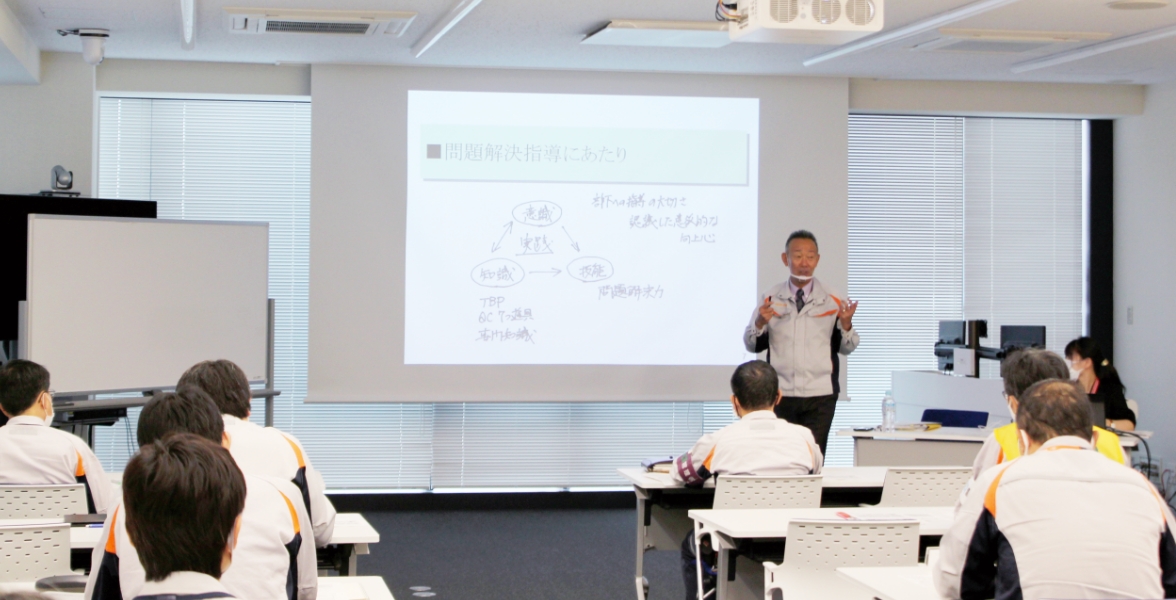 Skill improvement
We conducted PM practical skill training as part of rank-based training to improve employees' specialized knowledge and skills required for execution of operation. In addition, we support skill improvement by providing incentives, training environments, and information for technical skill tests that employees voluntarily take on.
Number of training instructors trained (cumulative)
Number of persons who passed the technical skill test
Digital literacy education
In order to create a lean and speedy decision-making system that is the key to survival in a rapidly changing business environment, we embarked on the development of "DX human resources" who would be able to respond to various situations by making full use of appropriate digital tools based on job knowledge. As its first step, we have been conducting "Digital Literacy Basic Education" for about 200 persons as mainly key persons in each department since September 2011.
Manufacturing capability
Research and development
To achieve steady growth into the future, we are implementing ambidextrous management through research and development aimed at maintaining and expanding existing businesses and growing new businesses. Specifically, we aim to contribute to next-generation mobility and the creation of a society that enriches people's lives by promoting development in five priority areas where we can leverage our strengths as a materials manufacturer.
Intellectual property-related initiatives
Activity policy
We take a threefold approach to intellectual property activities: (1) proactive intellectual property (business expansion and challenges), (2) defensive intellectual property (business stability), and (3) basic activities (human resource development and system building). Our aim for these intellectual property activities is to achieve steady growth by setting targets and conducting activities in each of these areas
Promotion system
We have established an Intellectual Property Committee, which drives our intellectual property activities, with the Research and Development Headquarters General Manager as chairman, the Technology Management Officer as vice chairman, and Company General Managers, Headquarters General Managers, and Technology Department General Managers as members.
Patent quality improvement
In the past, our activities were aimed at protecting the intellectual property arising from our research and development. On top of that, we have also been prioritizing use of our intellectual property since fiscal 2021 to protect the competitive advantage of our businesses. We are working to improve the quality of our patent applications by strategically applying for patents through a collaboration between our development and intellectual property divisions while maintaining a certain number of patent applications. We are also conducting priority investment of research and development expenses and personnel into new technologies related to our five priority areas, with a focus on new businesses, with the aim of building a high-quality intellectual property portfolio.
Intellectual Property Committee
Evolution in manufacturing capabilities
Aichi Steel has always focused on the manufacturing capabilities of integrated forging with steel making processes, which cover everything from material design to production of steel, forged products, and electronic components at a single site. This has enabled us to provide our customers with highly functional, high-quality materials and parts with high strength, durability, and machinability. The source of our manufacturing capabilities are a range of initiatives to pursue and improve specific consumption and to thoroughly reduce costs based on the Toyota Production System (TPS), Total Quality Management (TQM), and Total Productive Maintenance (TPM). During fiscal 2021, we worked to improve productivity through a range of initiatives, including reducing casting time in the steel making process and optimization of product types on the product rolling lines. Going forward, one of the things that we will focus on is achieving resilience in our production capabilities so that we can respond to dramatic short-term fluctuations in demand.
Global production system
Aichi Steel has developed a global production system to meet customer needs for overseas production and local procurement, and provide safe and secure production to the world. By also sharing our accumulated manufacturing knowledge throughout the entire group, we are providing support to manufacturing operations globally. Even in times of sudden disaster, we are able to distribute production risk through an extensive backup system that enables individual items manufactured by each site to be manufactured to an equivalent level at other production sites. During the COVID-19 pandemic as well, our production sites worked together to maintain product supplies without interruption.
Quality Management System (QMS)
The provision of safe products and services to society is one of our important values in the Aichi Steel Group Action Guidelines. To put this guideline into practice, we are promoting quality improvement activities in line with the three pillars of Vision 2030?quality management, development of safety-conscious human resources, and fundamentally high quality designs. We are also working to achieve customer satisfaction and trust through the provision of appropriate information and honest communication. In addition, we obtain third-party and international certifications such as ISO 9001 (quality management systems), undergo regular audits and renewal audits, and work to maintain and improve our quality management.
Efforts to obtain IATF 16949 certification
We selected "quality management" as a theme for reform from among our three-pillar activities, and we are working to obtain certification under the IATF 16949 Standard*. We are developing the world's best quality management system, and contributing to greater safety and security for society, to meet the demands from customers for not only quality of products, but quality of business operations as well.
IATF 16949 is an international standard for quality management systems specialized for the automotive industry and used by many of the world's automakers as their global procurement standard for automotive parts.
Acquisition status of quality ISO certification
Steel products and forged products
Passed surveillance audit for ISO 9001
(October 2021)
Electro-magnetic products
Passed renewal audit for ISO 9001
(December 2021)
Passed renewal audit for ISO 13485
(January 2022)
Laboratory accreditation
Passed surveillance audit for ISO/IEC 17025
(March 2022)
Activity system chart
Smart factories
We are working with big data, comprised of equipment data and energy data managed centrally on IoT servers, to create an IoT platform. Aiming to create lean plants that enable us to manage optimal manufacturing conditions, we analyze our accumulated data using AI and other technologies, and develop environments that enable essential measures for achieving further quality and productivity improvements.
Utilization of big data
We have completed development of IoT platform at some of our plants already, and this enables us to easily check a range of operational data remotely and in volumes that are tens of thousands of times greater than previously. As a result, we have seen dramatic increases in problem-solving speed and reductions in the amount of time required to recover operations after equipment breaks down. We will also utilize big data in the future, including analyzing various operational data and energy data, in our energy conservation activities. We will continue efforts to be able to utilize big data at all of our domestic sites by 2026.
Smart factories (IoT-based operation improvement)
Involvement with society
Social contribution activities
Aichi Steel Corporation aims for co-existence and co-prosperity with the local community. We are aware of our role as a "good corporate citizen," and value communications through social contribution activities, etc., in addition to active involvement with local communities. By gaining the trust and the comprehension of our business activities from the local communities, we aim to be a company that people want us to remain here as a member of the community and in this world forever.
Activity promotion system
We are developing community-based activities based on the four pillars of "clean," "green," "creative," and "volunteer support."
The Promotion of Social Contribution Team in the CSR Promotion Department of the General Affairs Division plays a central role within the company in promoting employees' volunteer activities and planning a system that allows employees and others to participate in social contribution without hesitation.
Clean (beautification, safety, and security)
In addition to carrying out the "Nearby Road Cleanup Campaign" with the aim of beautifying local communities, we are also expanding the "Clean Aichi Day" as our activities involving our domestic and overseas subsidiaries as part of the activities of the "CSR Enhancement Month" every October from 2009.
We are also actively promoting traffic safety awareness activities as part of our responsibility as a company involved in automobiles. One of them is to conduct patrol activities continuously on "Zero Day" every month at each site.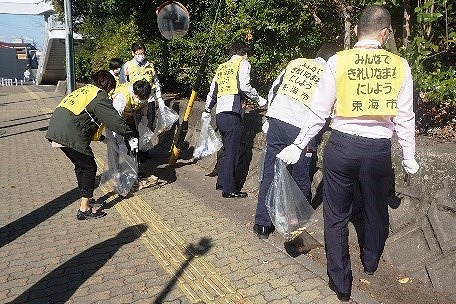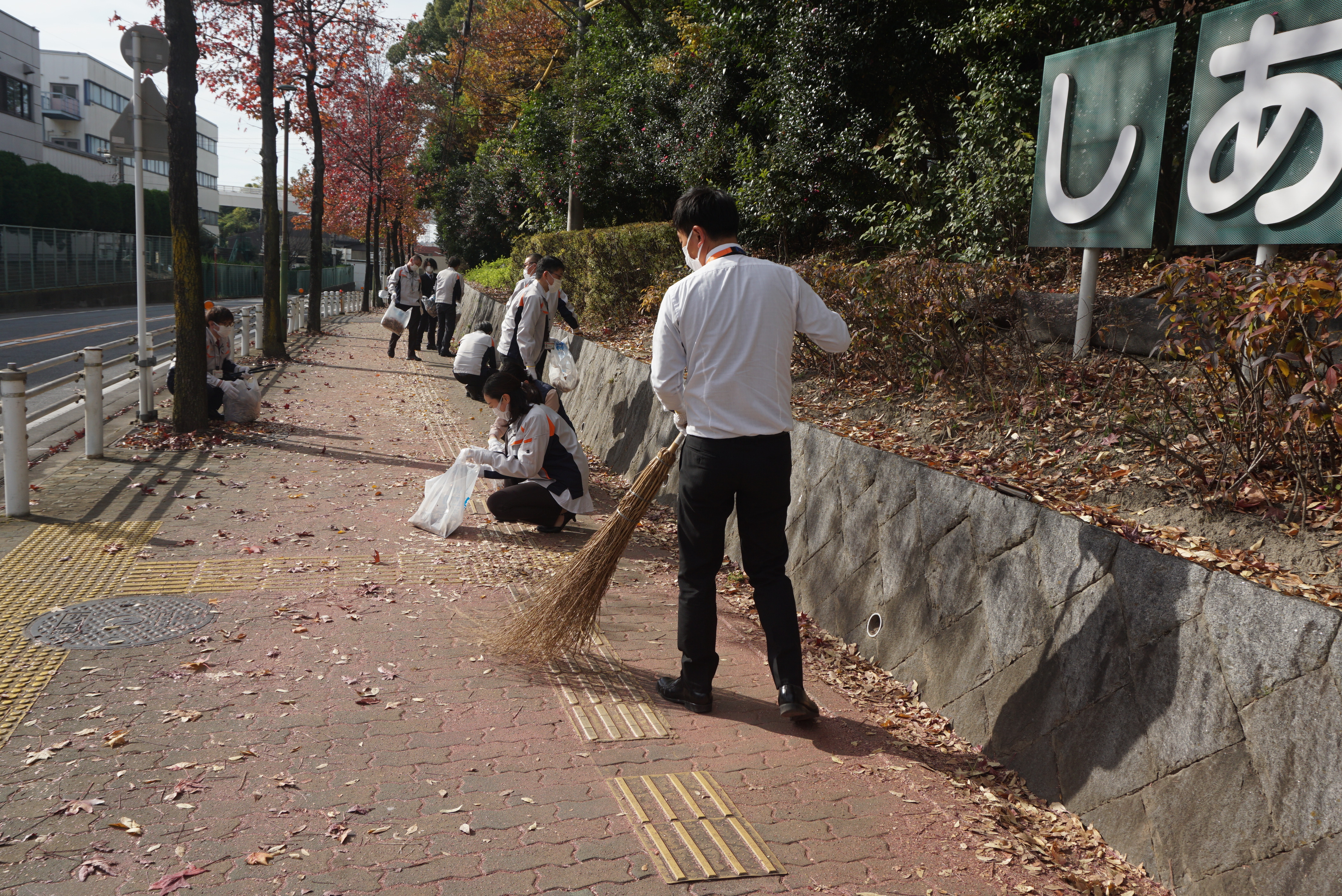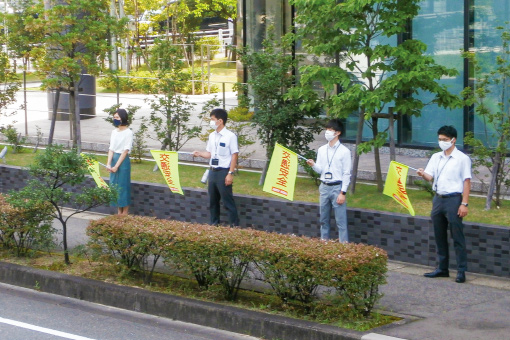 Nearby Road Cleanup Campaign
Green (planting and environmental conservation)
As part of our beautification activities of the area around our company site, students of the Aichi Steel Technical Training Institute replant flowers twice a year at the rotary in front of Shurakuen Station of Nagoya Railroad, which is the nearest station to the headquarters.
In addition, we are promoting the maintenance of the Nakashinden green space by planting trees and creating a biotope with the aim of co-existing with nature and biodiversity in the region.
In Otaki Village, which is located in the water source area for the Aichi Prefecture's service water that is the water vein of the Chita Peninsula, we carry out forest cultivation twice a year for the purpose of conserving the forest.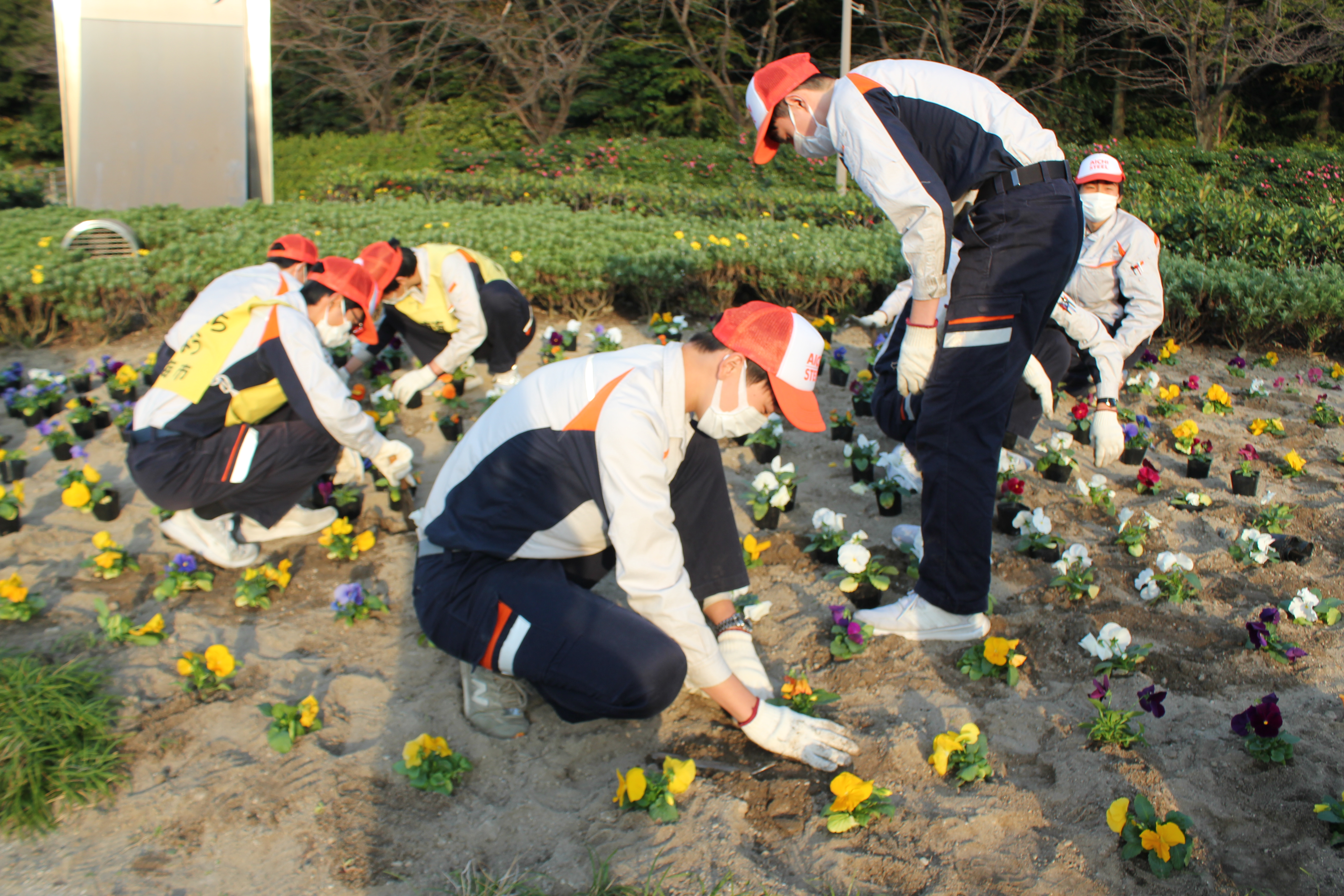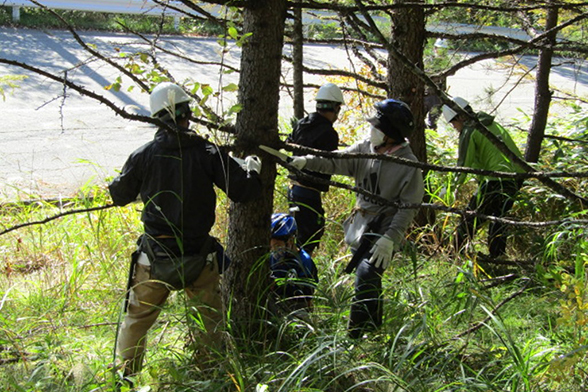 Creative (education and culture)
We participate in the Fourth Tokai City Manufacturing Program (sponsored by the Board of Education of Tokai City) held during summer vacations of elementary schools with the aim of teaching elementary school students the joy and the splendor of manufacturing. We provide a place where they can experience manufacturing through the "Lesson about Iron" where they learn about the possibilities and roles of iron, which is closely related to their life, and make their own magnets.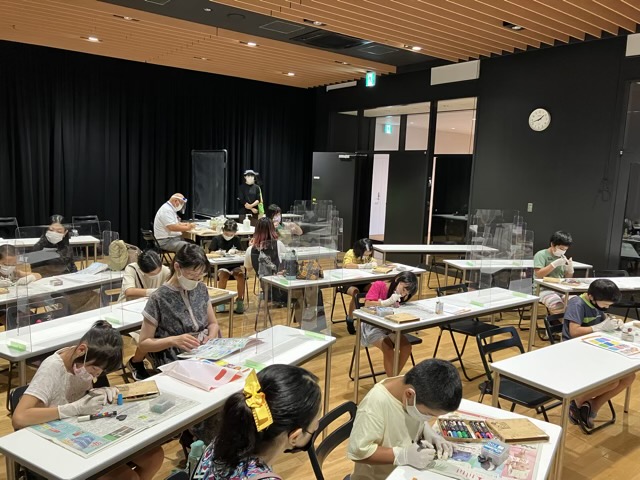 Volunteer support
The "Aichi Steel Volunteer Fund," which was established in 1993 and continues to operate, supports social contribution activities in the local communities by making donations to local welfare facilities with cash contributions collected from employees as sources of funds.
For donations made by the Aichi Steel Volunteer Fund, we institutionalize a matching gift program in which the company donates an amount equal to the amount donated to the fund, and carry out a "one-coin fund-raising" as a mechanism for employees to participate voluntarily and continuously, in which 100 yen is deducted from their monthly salary for donation to the fund, and thereby the company and its employees are promoting volunteer activities.
Aichi Steel Volunteer Fund
Interaction with local communities
Implementation of and participation in events
We held community meetings in Tokai City and Kariya City to promote interactions with local residents and actively support various community activities, including community events and athletic festivals.
At the community meeting in Tokai City, we explained our environmental and CSR initiatives and tours in the entire factory from the bus window. Through these activities, we are deepening their understanding of our business activities.
Initiatives to promote dialogue with stakeholders
Stakeholders
Initiatives to promote dialogue
FY2021 achievements
Customers

Customer consultation service


Improvements by responding to customer comments and providing feedback internally

Number of inquiries

1,341

Shareholders and investors

Shareholder's Meeting


Business reports, discussions and resolutions on financial account items, and Q&As with shareholders

Dialogue with investors


Dialogue through financial account and future strategy briefings, individual meetings, etc.

Number of dialogues with
institutional investors (total)

15

Employees

Regular meetings of the Labor-Management Committee


Mutual understanding between labor and management, discussions and negotiations, and exchange of opinions

Attitude surveys


Surveys on organizational and workplace culture, working lives, etc.

Number of meetings between
labor and management

20

Suppliers

Suppliers Convention


Sharing of procurement policy, mutual learning opportunities, strengthening of partnerships

Number of participating
companies

125

Local communities

Collaboration and volunteer activities with NPOs, etc.


Communication through proactive participation in social contribution activities and community volunteering activities

Collaboration with industry groups


Proposals concerning common industry issues and facilitation of information sharing through the Special Steel Association of Japan, etc.

Number of volunteers
(total)

5,876
Contributing through company sports activities
One of our action guidelines is "As a 'Good Corporate Citizen,' we will participate positively in CSR activities." In line with this, we conduct activities that contribute to local communities through our athletics teams. We hold sports clinics for children where we teach the fun of sports, not just skills, and the importance of working toward a goal. Many athletes are able to balance their sporting activities with company work while excelling at the top level, so our sponsorship of such athletes leads to feelings of belonging to a group, and motivation to work, among our employees.