Technology Development
Basic Policy and Organization
Vision for development
Drive innovation through manufacturing that creates a sustainable and smart society
Development policy
Strong promotion of next-generation mobility development and development to improve lives
Innovation in fundamental technology and development management
Building collaboration with research institutes and external organizations - promoting open innovations
Organization
Creation of New Value
Aichi Steel adapting to CASE
There is an acceleration toward CASE (connected, autonomous, shared, and electric) in the automotive industry which is said to be a "once-in-a-century revolution."
Aichi Steel is working to develop a society that is more environmentally friendly and harmonized between people and cars by strengthening development for practical use in the fields of "E (electric)" and "A (autonomous)."
Development theme in progress
Advanced Evaluation Technology
Testing machine under high-pressure hydrogen environment
The design of high-pressure hydrogen system parts requires evaluation of tensile properties, fatigue properties, and fatigue crack growth properties in high-pressure hydrogen environments, identical to atmospheric environments.
In 2019, we introduced an axial load type tensile and fatigue testing machine for high-pressure hydrogen environment. In 2021, we developed and started test evaluation of a rotary bending fatigue testing machine in a 90 MPa high-pressure hydrogen gas environment for the first time in the world.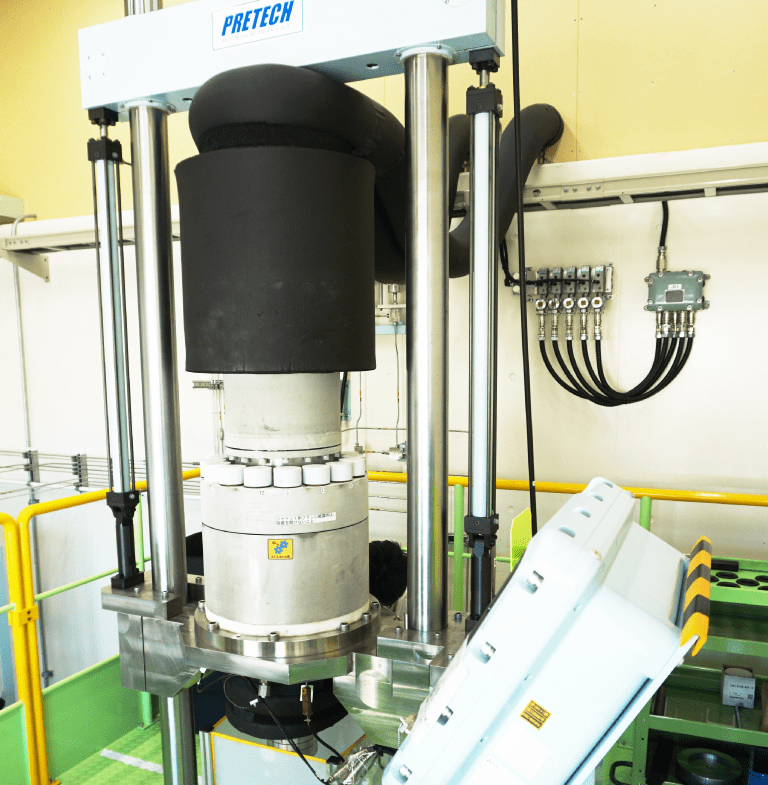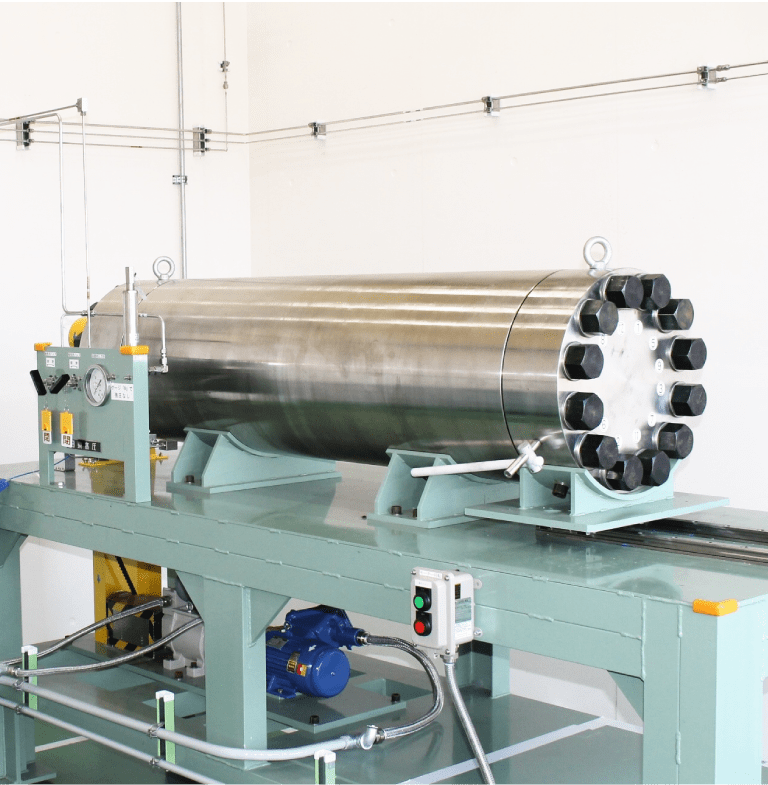 Servo press line for developing next-generation forging
As automobiles become more compact and their mechanisms evolve due to electrification, there is a strong demand for components that make these vehicles compact and lightweight, as well as needing to be highly functional in order to integrate them.
In response to the need for higher functionality of parts for next-generation vehicles, we have introduced a servo press line for forging, which enables the development of innovative methods. Servo press is a technology that can cope with complex shapes that cannot be dealt with conventional hot forging by freely changing the molding speed (figure below). This is the first time that a servo-type press incorporates a double-acting molding mechanism in a forging manufacturer in Japan. New products and techniques leveraging these advantages to the maximum will be developed, accelerating more advanced forging methods.
Equipment configuration: 1200t servo press for forging, high frequency furnace, auxiliary equipment
Servo press mechanism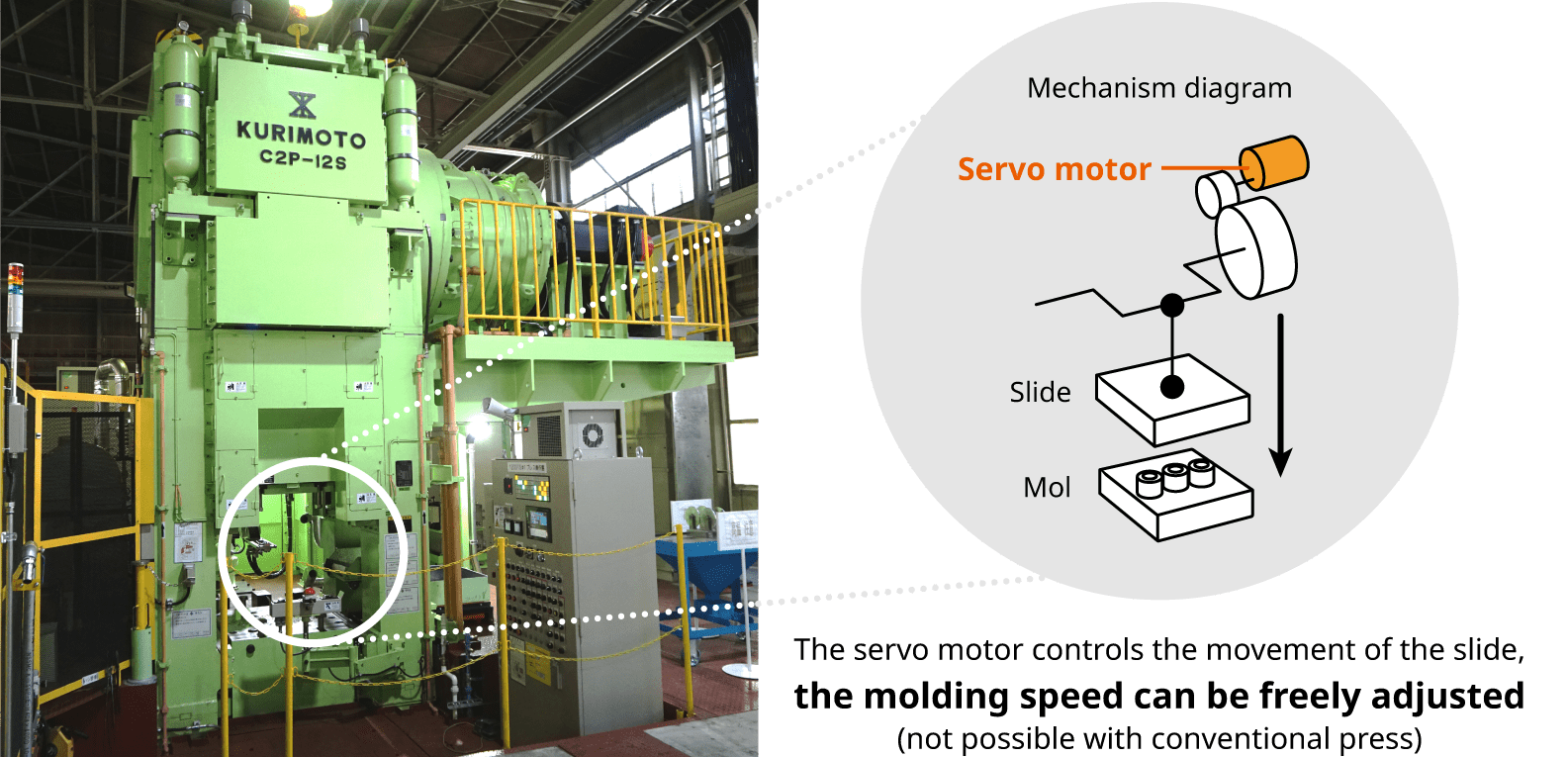 Research example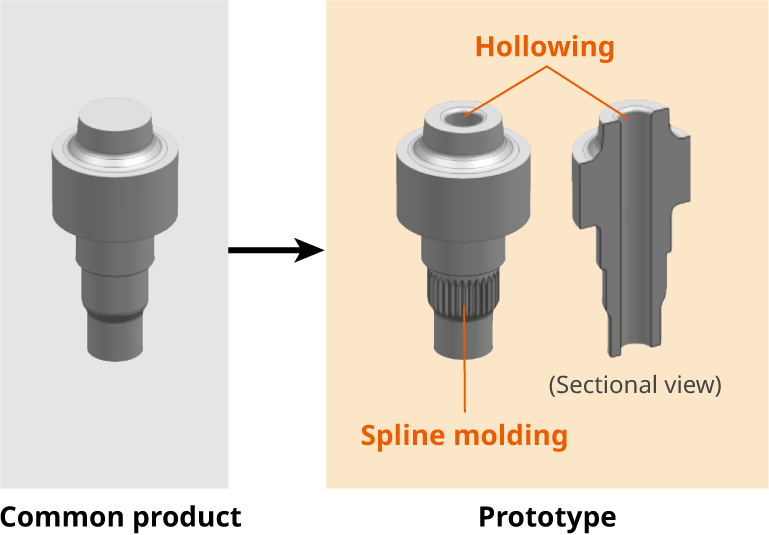 Public research fund
Management system for public research funds
We shall manage public research funds under the following responsibility system.
| | | |
| --- | --- | --- |
| Chief Administrative Officer | President | Supervises the company operation and commits to appropriate management of public research funds as Chief Executive |
| Chief Management Officer | Director of Research and Development Headquarters | Assists the Chief Administrative Officer and commits to appropriate management of public research funds |
| Compliance Officer | Research Division Officer | Commits to appropriate management of public research funds at the research division |
◇

Contact for inquiries and consultation regarding public research funds and contact for reports regarding unauthorized use of public research funds and misconduct in research activities.
1 Wanowari Araomachi, Tokai City, Aichi 476-0003
E-mail:kunipro@he.aichi-steel.co.jp
This page discloses the company's system based on the "Guidelines on the Management and Audit of Public Research Funds at Research Institutions" announced by the Ministry of Education, Culture, Sports, Science and Technology and other ministries of Japan.